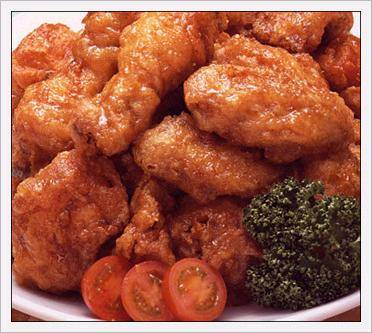 Fried Chicken Review: Kyocheon Chicken
Objects in picture are smaller than they appear.
Just read
pakalakamino's blog about fried chicken
, and it reminded me of a story.
Kyocheon chicken is one of the many fried chicken chains doing reasonably well in Korea. Their "hook" is that they have a thin, slightly sweet batter that is supposed to stay crunchy and good even after the chicken has gome cold. I was quite impressed.
Kyochon's good, but overpriced for non-city folks. when an outlet opened in Kojin (my wife's hometown), we ordered some, and for fourteen thousand won, each one of us got about two bites of the delicious cornish hen that they had fried up for us. My it was tasty. Then we called the local place, and they sent us a rooster at least 4 times as big, half just fried, and half with a nice sweet/sticky sauce and rolled in peanuts. A bit different, but just as good as Kyocheon. That cost us 10,000 won. We weren't suprised when the place went bankrupt in two months.
Two words for the poor owners : MARKET RESEARCH
Just because it tastes good doesn't mean it will sell at any price.
In Sokcho, I've found that Edison DHA chicken is about as good as it gets (although you can get a real "whole fried chicken" in Joongang Market somewhere--they start with a live chicken when you order, and hand you a feast for five or six fifteen minutes later). DHA chicken doesn't have anything special (they don't fry in olive oil, they don't put curry in the batter, and they don't use old oil that smells like french fries ala Hallim), but they claim that the chickens are raised to contain DHA which supposedly makes you smart. One of my students back when I taught adults had parents who ran the local DHA shop, and we had fun with her in class. She said that their chickens were "smart chickens," and I pointed out that they weren't smart enough to avoid the fryer. Anyway, my wife likes fried chicken, and we've ordered from them about 15 times in the last two years (we save the bonus coupons). It always arrives hot and fresh, and is just enough for the three of us to eat our fill without feeling too bad for all those calories.
On a completely unrelated note, I have a new oven in my new house, and I'm absolutely loving it! When we were newlywed and poor, we bought the cheapest oven available (most Koreans don't have ovens), and I fought with it for 3+ years to get reasonable results. Now I have a very nice oven--a bit smaller, but it had a supplementary electric element on top and a fan that circulates the air a bit, AND a light AND a timer!!! I made cookies today, and they turned out great! We'll take some own to our neighbours below in order to apologize in advance for our son's noisy jumping and dancing about. Hopefully Dad's Favorite Cookies will appease them for a while.
Here's a video of a kyochon commercial, starring one of my wife's favorite heartthrobs, Bi. - Note that there are over $50 worth of chicken in the final shot.